[centre]
Emperor Konrad von Nacht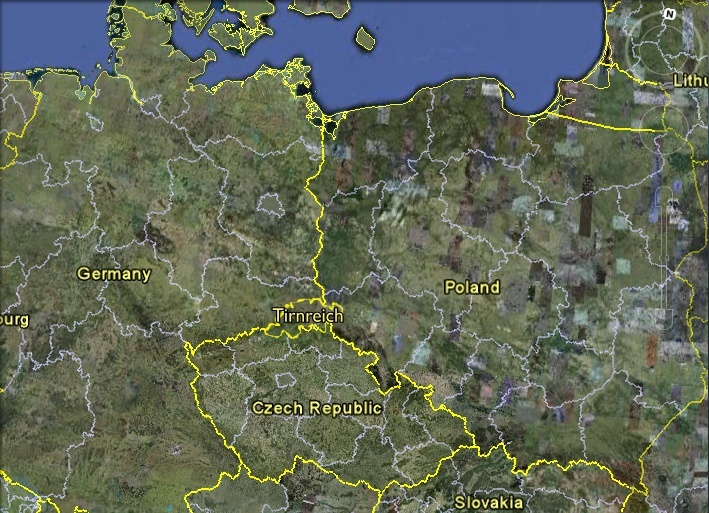 Location of the Tirnreich in Europe
Tirnreich Empire (
click for larger image
)[/centre]
General Info
Name
: Tirnreich
Official Name
: Imperial Republic of the Tirnreich
Population
: c. 18.900.000
Domestic
: 3.250.000
Imperial
: 15.650.000
Type
: Imperial Parlimentary Republic
Head of State
: Emperor Konrad von Nacht
-Parlimentary
: Prime Minister Christoph Kohl
Parliment/Congress
: Imperial Council
Independence
: 4 October 2009
AIN Membership
: 22 December 2009
Sports Hosted
: Football, Swimming, Tennis, American Football (college level)
Native Musicians
: The River Children- Folk, Kloettron Hills, Woodfield Records
Airline
: AirTirnreich
Military
: c. 610,000
-Air
: Imperial Air Corps
-Land
: Tirnreich Defense Force
-Water
: Imperial Search & Rescue Squadron
Classifications
-Village
: <1,000
-Town
: 1,000-30,000
-City
: 50,000+
-Metropolitan Area
: 1,000,000+
Economy
Currency
: ₥ (mark)
Exchange
: ₥1,00 – $1.50
₥1,00 – £0,95
₥1,00 – €1,19
GDI
: USD$122.23 Billion (Total)
Structure of Economy
: Capitalism with limited socialism
Common Laws
Caffeine/Drugs-
See Below
Alcohol-
See Below
Driving- Permit at 14, License allowed at 16 after 2 years and 100 supervised driving hours
Age of Consent- 18 years old
Abortion-
Legal only in cases of rape, abuse, and incest
Gambling- 18 years old
Voting- 18 years old
Prostitution- Street: illegal unless superseded by local law; Regulated: 18
Drug Laws
>
Caffeine
: Unregulated
>
Nicotine/Tobacco
: Restricted to Ages 16+, strongly discouraged by Imperial Ministry of health. Usage restricted to outdoor areas. Sales restricted to licensed retailers. Sale to minors is punishable by revoking of license, 3mo. probation, and potential jail time.
>
Alcohol
: Public use/purchase restricted to 13+, private use unregulated. Advised to abstain from use until age 18. Sales restricted to licensed retailers. Sale to minors is punishable by revoking of license, 3mo. probation, and at least 1mo. jail time.
>
Cannabis
: Strongly restricted to senior use (Ages 65+) and stringent medicinal use. Advised to abstain from use. Illegal possession= 3mo. probation, suspended driver's license, alcohol license revoked. (sentence may vary based on amount) Illegal use= 1mo. probation. Sales restricted to government agencies. Illegal sales punishable by at least 3mo. jail time.
>
Heroin
: Strictly prohibited. Possession/Use: 1st offense= 12mo. probation, 2nd+ offenses= 3mo. x "offense #" for prison time, revoking of driver's license.
>
Cocaine
: Strictly prohibited. Possession/Use: 1st offense= 6mo. probation, 2nd+ offenses= 1mo. x "offense #" for prison time, revoking of driver's license.
>
Ecstasy
: Use unregulated, possession illegal. Illegal possession= 3mo. probation/jail time (based on amount possessed) Caught in use= Public intoxication offense.
*All substances listed above, among others, are required to be reported on all manifests, luggage lists, and package content reports. Any smuggling of openly legal substances (Alcohol, Tobacco/Nicotine, Caffeine) result in 1 week imprisonment, and 3 mo. probation. Any smuggling of illegal/strictly regulated substances (Cannabis, Heroin, Cocaine, Ecstasy) result in 3 mo. jail time and 1 year probation.
Military
TDF
Name
: Tirnlander Defense Force (TDF)
Command
-
Executive
: Gen. Klaus Jovar
-
Parlimentary
: DptMin. Georg Weirhaus
Type
: Combined Land Force
Strength
:
-
Number of Divisions
:
Ranks
:
-
Non-Commissioned
:
-
Commissioned
:
Notes
:
Politics
Imperial Council
Political Parties
The Tirneich, as an Empire, does not have a strong party-based entity, but the elected officials of the various Ministries can be (and almost always are) affiliated with a certain party. Due to the Tirnreich being an Empire, the Emperor has the right to regulate, censor, or outright ban a political party. But that is almost always reserved for "worst-case" scenarios.
-
Imperialistischen Partei
:
Imperialism (Tirnlander-Conservatism)
- The IP (
Imperialist Party
) is the "home" party of the Tirnreich; it's values are in line with obedience to the Emperor and the Imperial Council, while maintaining civil liberties, as the country has been established. (they call for no change) The party is based in Nachtsburg, with the Party head always being the Prime Minister. The IP is interested in keeping a capitalistic economy, while maintaining a Neo-Imperialist government, meaning that the Emperor is still the supreme ruler, but the country actively seeks out new land to acquire. On religion, they maintain that the official religion is Christianity, but they don't seek to make that the majority religion. They also seek to keep common civil liberties, such as those established in the present; the Imperial Council is also something the party wishes to keep constant, seeing it as a valuable representative tool. Notable Members include: Emperor Konrad von Nacht (Emperor of the Tirnreich), Prime Minister Christoph Kohl (Tirnlander Prime Minister), and Rudolf Gasselton (4th Wealthiest Man in the Tirnreich).
-
Kaiserlich Leutes Gewerkschaft
:
Communism
- The KLG (
Imperial People's Union
) is a communist party headquartered in Hekli, where a large majority of the city is communist. The focus of the party is to nationalize various industries and commercial sectors, while redistributing the wealth of the population. The party aims to remove the rightful Emperor, and replace him with a Sozialausschuss, or Social Committee. Notable Members include: Min. of Transportation Corbin Holbaek, Randy Baddwell (Imperial Chronicle correspondent), and Adrian Foxworth (Nachtsburg Empire Chairman).
-
Christlich-Soziale Partei
:
Theocratic-Socialism
- the CSP (
Christian-Socialist Party
) is a Christo-Socialist party headquartered in Nazov, which is the capital of the eastern state of the Tirnland. (Polish Third)The CSP is interested in keeping Christianity the dominant religion in the Tirnreich by censoring other religions, as well as socializing some industrial sectors, while keeping others privatized. The party is interested in keeping in the rightful Emperor, although only if he accepts Christianity, and if all subsequent Emperors are baptized and crowned under Christianity. Notable Members include: Martin Tore (Christian columnist), Rev. Johann Bamstein (Head Reverend of the Church of Jesus Christ, at Nachtsburg), and Min. of Culture Anton van Gootham.
-
Organizacja Umysłów Wschodniej
:
Capitalist-Libertarianism
-The OUW (
Organization of Eastern Minds
) is a Libertarian-Capitalist organization with home offices in Pazlosk, in the Eastern third of the country. The party is aimed at creating "an Ultra-Liberal capitalistic republic," devoid of the traditions of the Tirnreich. They seek to replace the IC and Emperor with a representative government who is focused on preserving Capitalism; a republic under OUW rule would seek to keep Tirnlanders free of government "disruption" and lift trade and culture censorship. Notable Members include: Daniel Josham (Skjalmira District Judge), Alan Rothschiled. (Economist)
-
Zjednotenej Robotníckej Fronty
:
Labor
- The ZRF (
United Workers Front
) is an on-the-rise coalition of smaller political parties and labor organizations, headquartered in Jižnisto, the capital city of the southerm Pragostprovinz, formerly known as the Czech Third. The coalition party is content with keeping the Imperial system intact, but seeks a more equal fiscal environment, as well as benefits for the working class. This coalition is focused on workers' rights, are pro-union, and staunchly defends public programmes and welfare. The ZRF is quite popular with blue collar workers in small industrial cities and farming communities. Notable members of the ZRF include: DptMin. Joma Tivat (MoIA), Construction Min. Fran LaCroix, Zavata Labor Society, Imperial Worker's Party, EuroClass Organization.
-
Neue Liberalität Organisation
:
Liberalism
- The NLO (
New Liberalism Organization
), another smaller political party, came into power in small cities and with university students. On the liberal side, the New Liberalism Organization focuses on equal rights for everyone, fair trade, free elections, and a secular society. The NLO has spent much money fighting the policies of the CSP and KLG, and has loose ties to the Organization of Eastern Minds, (the OUW) due to their stance on government and free thinking. The Liberalism-Liberatarian relationship is relatively friendly, although critical points of conflict come with religious tolerance, taxes, and personal liberty legislature. Notable members include: DptMin. Agnis Ghafin (MoM), Pres. Rubleskov (Dajrmund University), and Sirna Dodarov (Salutatorian of Class of 2010, University of Amierden)